Learning Limerick is a partnership that is collaborating to advance Limerick's progress as a Learning Region. Membership includes Local Government, Higher Education, Further Education and Training, Local Development, Community Education, Culture and Arts, Youth Work, Social Welfare, Childcare, Migrant Integration, Mental Health Services and Limerick Chamber Skillnet.
Learning Limerick has its beginnings in the Limerick City of Learning Steering Group, which was established in 2003, as a statutory sub-committee of the Limerick City Development Board. In 2013, in advance of the merger of Limerick City and County Councils, the Limerick City of Learning Steering Group was expanded and the group was then changed to "Learning Limerick" to reflect its wider regional remit.
Learning Limerick believes that learning is not just for young people – nor does it only happen in schools, colleges and universities: it happens everywhere, every day for everyone – in homes, communities, workplaces and in all leisure and social settings.
Our Purpose
The purpose of Learning Limerick is to work in partnership with relevant stakeholders to:



1. Promoting

Promote awareness of the
importance of lifelong learning for
every person, family, community
and workplace in Limerick.




2. Influencing

Influence education and
skills, policy, locally, nationally
and internationally.




3. Positioning

Position learning at the centre of
development planning in the
Limerick region, in all communities,
sectors and settings.
Learning Limerick partners believe that learning can transform lives, workplaces and communities for the better. We seek to promote lifelong learning, in all its forms, in all settings for the people of Limerick, by being:
Inclusive and Respectful

Competent

Agile and Innovative

Creative

Connected & Collaborative

Learning Leaders


Limerick City and County Council
Limerick City and County Council (Comhairle Cathrach agus Contae Luimnigh) is the authority responsible for local government in the City of Limerick and County Limerick in Ireland. The authority acts as the hosting structure for the Learning Limerick steering group, and this follows UNESCO's guidelines that Learning City-Regions are hosted by the local municipality. The authority came into operation after the 2014 local elections, being formed by the merger of Limerick City Council and Limerick County Council under the provisions of the Local Government Reform Act 2014. The city and county administration is headed by a Chief Executive, Conn Murray. The administrative centre is Limerick.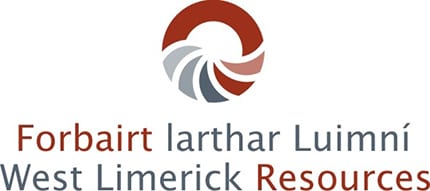 West Limerick Resources
West Limerick Resources is a community development organisation working to achieve positive change in the lives of people and groups in West Limerick. Their efforts are directed at building a stronger community through the enhancement of personal and community identity, values, places, structure and services. Some of their programmes include: Social Inclusion Community Activation Programme (2018-2022), Rural Development (LEADER) 2014-2020, Primary Health Care Project for Traveller Health, Rural Social Scheme, TUS Programme, Jobsclub and Limerick Volunteer Centre.
Learning Ambassadors are working with Learning Limerick to help promote and celebrate learning opportunities. They will act as role models and help inspire learners. A number of participants indicated their interested in becoming Learning Ambassadors at our Partners Networking Meeting in November 2018; and follow up meetings of this group were held and the initiative was formally launched in March 2019. Learning ambassadors are keen to encourage others and can share their own stories and experiences of lifelong learning and help demonstrate that learning is for everyone! Looking forward to hearing more from our Ambassadors during this year!
LEARN MORE
Get in Touch!
We'd love to hear from you